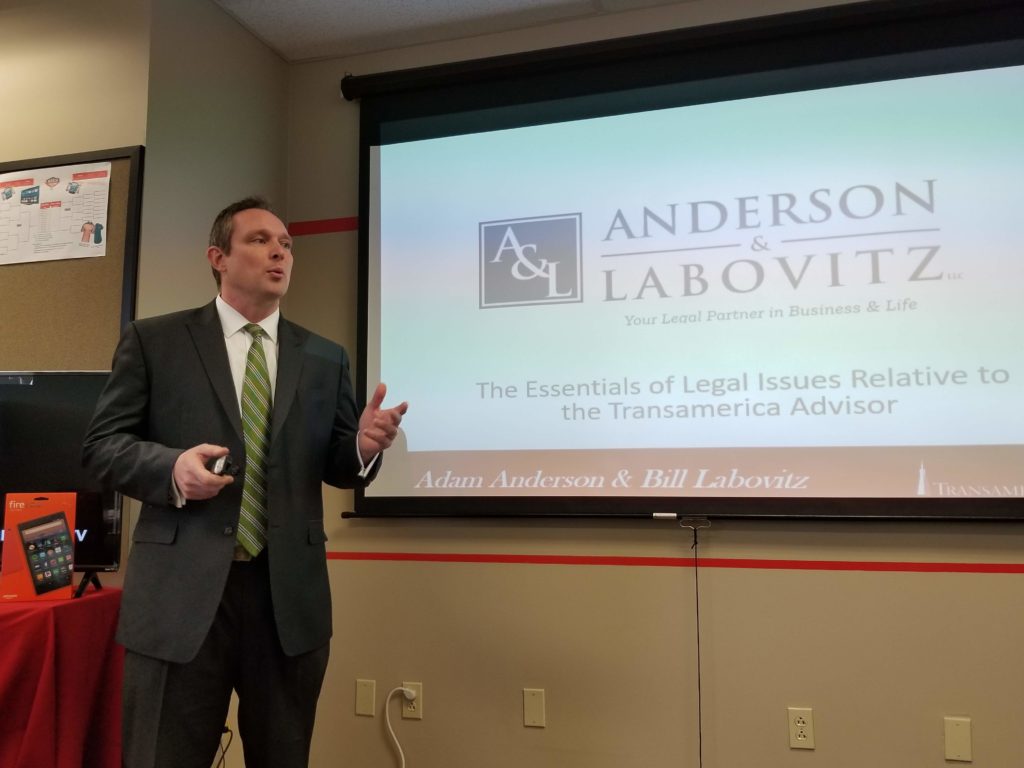 What happens when lawyers and insurance agents get together? You get interesting dialogue about safeguarding clients' assets in life and in death.
Adam Anderson and Bill Labovitz, who are partners at Anderson & Labovitz LLC, spoke to about 15 insurance agents and managers at Transamerica Agency Network in Forest Hills on Feb. 22 about estate planning and tips for small business owners.
Anderson, a veteran estate planning and estate administration attorney, said that although clients may not want to deal with estate planning, they must "get their heads out of the sand" and make sure that they have three essential documents: a will, a living will or health care power of attorney, and a financial power of attorney. These documents must be updated over the years, he said.
Wills are essential to directing the transfer of assets at death and to selecting who will administer your estate after you die. Under Pennsylvania law, if you die intestate (without a will), a surviving spouse is entitled to only the first $30,000 of value of the estate, with the balance divided up among the spouse and children, Anderson said.
With proper planning, it is possible to avoid the lengthy probate process (which takes an average of 18 months) and to minimize inheritance taxes. Anderson told the Transamerica advisors that probate avoidance techniques that he uses with his clients include trusts, gifts, and placing assets in the names of both husbands and wives.
Anderson warned the agents that their clients must prepare a financial power of attorney and a health care power of attorney and living will, which address financial and medical decisions, before it is too late and the individuals become mentally incapacitated.
Labovitz, an experienced business attorney and commercial litigator, focused on the life cycle of a small business.
During his presentation, Labovitz told the insurance professionals that their clients who own small businesses must form limited-liability companies or other entities for asset protection and tax benefits.
He told a story of a client doing business as a sole proprietor, rather than an LLC, who worried about losing his personal assets in response to a lawsuit filed by an upset customer.
During the 2-hour session, Labovitz discussed the importance of business owners having operating agreements with their partners, non-competition agreements with their employees as appropriate, and employee handbooks.
Labovitz also stressed the importance of succession planning. Business owners must look past the day-to-day challenges and consider who are suitable successors, train those successors, determine how much their companies are worth, and consider purchasing life insurance on the key people in a business (known as "key man" insurance).
Buy-sell agreements between business partners can make the transfer of a business less challenging, he added.
The Transamerica agents actively participated during the presentation, asking questions pertaining to their clients.
Transamerica offers life and supplemental health insurance, investments, and retirement services. Transamerica products include term life, whole life, universal life, long-term care and accidental death insurance, along with mutual funds, and annuities. Ron Ehalt is the managing director of the Pittsburgh office located at 1501 Ardmore Blvd., Suite 601, Pittsburgh, PA 15221. For more information, visit https://tanconnects.com/ron-ehalt.
The lawyers at Anderson & Labovitz are veteran attorneys who represent individuals, families and small-to-midsize businesses in Western Pennsylvania in the areas of Business Law, Estate Administration, Estate Planning, Litigation, HOA Law and Real Estate. We are your legal partner in business and life. For more information, visit www.PaLawFirm.com or call 412-209-3200.
Labovitz and Anderson are available to speak to your business, organizations or other groups. Call our office to learn more.